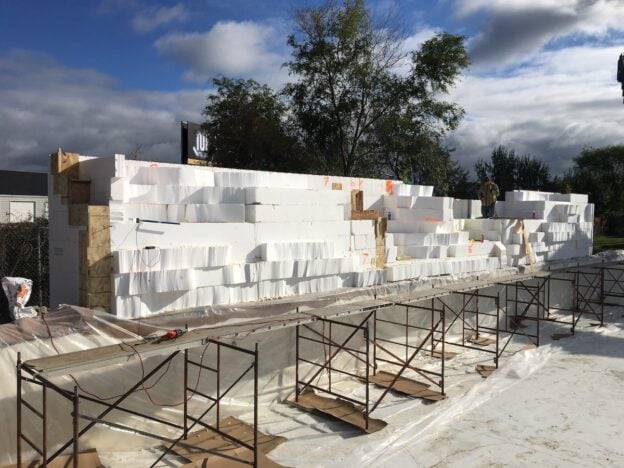 When Ewing Aquatic Pools needed a natural looking privacy wall to separate their sales office from the adjoining property, they contracted with our customer that builds all types of natural looking structures out of EPS, and finishes them with a variety of different coatings.  For this project in Winter Haven, Florida they used 25 blocks of nominal one pound density EPS 12" x 48" x 96" to create the basic structure.  Then, using woven wire and concrete, they crafted the final shape of the wall, applying colored coatings to make what appears to be a natural earth and rock formation.  This same method is used to construct swimming pool grottos for hotels and private residences.  These structures look so natural that it is almost impossible to tell the difference between man-made and what happens in nature.  The walls and grottos are as strong as the real thing and are custom designed around the customer's requirements.  Waterfalls, water slides and planting areas can all be a part of the project.
EPS is lightweight and easy to work with.  It can be cut with hand tools such as saws and rasps, electric saws, and hot wire tools and hot knives produced specifically for cutting EPS.  Numerous coatings are produced that work well with EPS to create different finishes from rock and slate to stucco and wood.  Water based construction adhesives and foaming adhesives are used to secure blocks together.
EPS is also used by professional and amateur artists to sculpt amazing pieces.  Because EPS is so lightweight large scale projects can be done that would not be practical with other materials.